These Are The Prettiest Ear Piercing Combinations To Try In 2020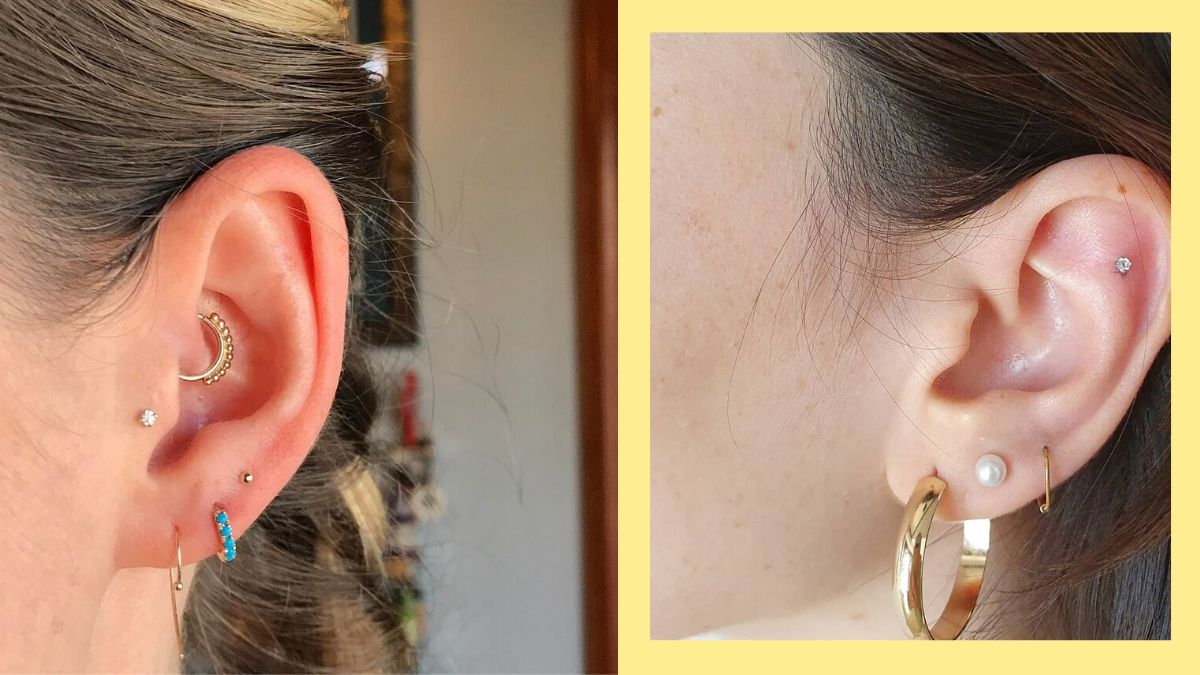 PHOTO: (left) instagram/bodyelectrictattoo; (right) instagram/pierceitmx
A single ear piercing is old news—this year, we're all about ~quantity~! All our favorite celebs and influencers have jumped on the multiple ear piercings bandwagon, and it's high time that you did, too. If you're tired of your usual ear candies, read on for the prettiest combinations that will make everyone do a double-take. Keep on scrolling to find your next inspo:
1. Flat + Triple lobe
If you don't want your ear to look too ~crowded~ but you still want multiple ear candies, go for a flat piercing + triple lobe. This combo looks clean AF.
2. Single lobe + Daith + Helix
If you like your piercings spaced out from each other, try a single lobe + daith + helix combination.
3. Single lobe + Industrial
An industrial piercing is sure to do all the talking, so make sure to pair it up with something low-key such as a single lobe one.
4. Conch + Double helix + Single lobe
If you're obsessed with hoops, this combo is perf for you.
5. Triple lobe + Conch
Keep everything on the lower part of your ear by getting a triple lobe + conch piercing combination. 6. Triple lobe
If you want to put a twist on the usual triple lobe piercing, instead of getting them vertically, ask your piercer if you can get it shaped like a triangle. We love how Kathryn Bernardo did hers!
7. Conch + Helix + Flat
If you want to keep the lower part of your ear bare, situate all your piercings on top, like this conch + helix + flat combo.
8. Tragus + Helix + Flat
Three piercings don't always mean triple lobe. You can try a tragus + helix + flat combo for a ~fresher~ take on things.
9. Double lobe + Double forward helix
Keep things symmetrical by getting a double lobe and double forward helix piercings.
10. Tragus + Daith + Triple lobe
If you want an eye-catching design, the combination of a tragus, daith, and triple lobe is sure to do it!
Follow Cheska on Instagram.