37 ~Hottest~ Celeb Hair Transformations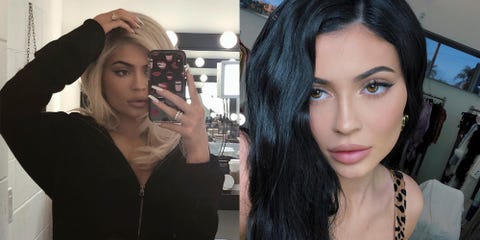 Kylie Jenner
Looks like she made the swap once again. The hair color chameleon has given up the blond life for her signature shade of inky black.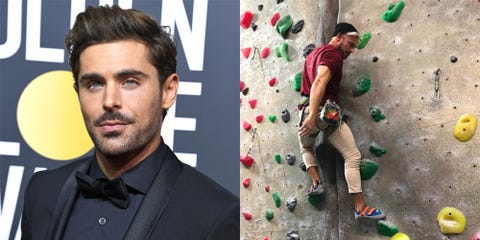 Zac Efron
I guess it's finally time to let go of my middle school crush on Troy Bolton, because Zac Efron now looks nothing like him. He debuted a bleached do on Instagram and even though it looks great, TB could never.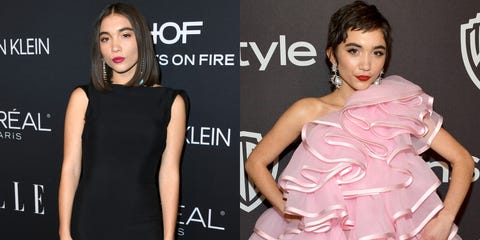 Rowan Blanchard
New year, new hair! Rowan is starting 2019 with a brand new hair cut. The Girl Meets World star showed off her new 'do at the 2019 Golden Globes after-party.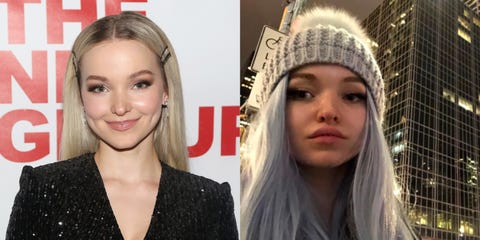 Dove Cameron
Dove took a tip from the Kylie Jenner beauty handbook and dyed her hair ice blue, which is quickly becoming the color of the season. She was so excited about the change-up, she shared three selfies of her new 'do on Instagram, captioning one of the pics, "if you don't match your hat to your hair are u really doing your best?"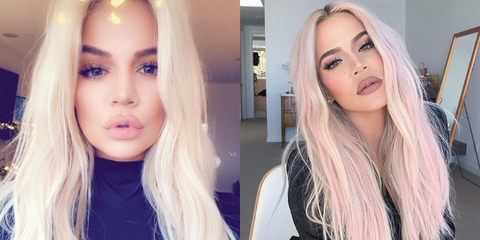 Khloé Kardashian
Khloé recently debuted her bleach blonde hair, but she decided she wasn't done and added some pink to her new 'do that's still perfect for winter!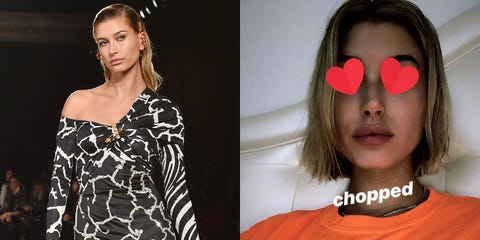 Hailey Baldwin
Hailey Baldwin couldn't wait to share her new haircut, although, it's not as drastic as some would think. Instead of going with her usual long bob, Hailey went with a much shorter look.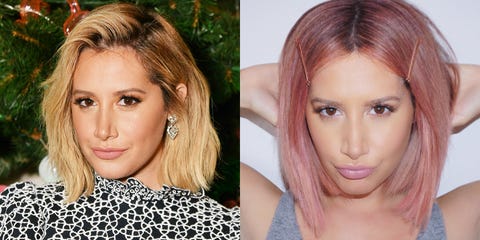 Ashley Tisdale
Who said cotton candy pink hair was only good for the summer? Ashley just proved those haters wrong by dyeing her hair right before the holidays.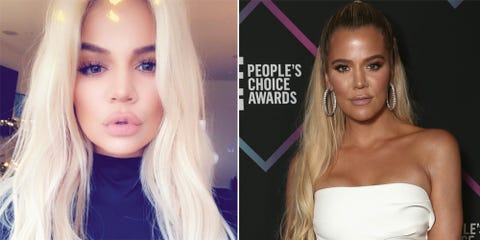 Khloe Kardashian
While everyone else was adding lowlights for fall, Khloe Kardashian made the switch from golden strands to bleach blonde.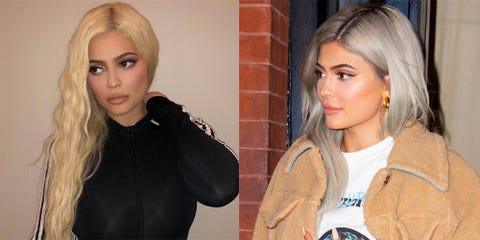 Kylie Jenner
Kylie changes her hair almost as much as she changes her lipstick. In the past two months, she's gone from black, to pink, to blonde, and now, Ky's rocking a grandma chic hue we all wish we could pull off. She flaunted steel gray strands at Travis Scott's concert and hunny, she looks great.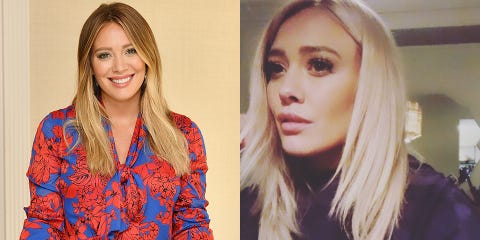 Hilary Duff
Now that things are getting cold for the winter, Hilary decided to change her hair to match the season. Bored with her current blonde hair, she went with an ice blonde look. She celebrated her new look on Instagram with the caption, "'Twas a long long day but the mission was accomplished." Judging by how it came out, it's safe to say it was worth it!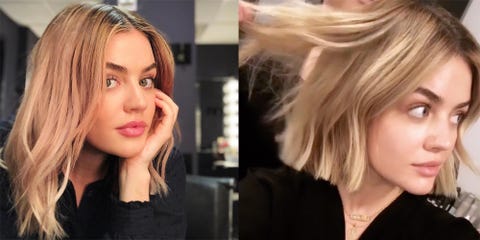 Lucy Hale
While everyone else on your feed was going dark for fall, Lucy colored her hair blonde. In addition to the unexpected shade, she's also rocking a super short bob that I will be taking directly to my hairstylist.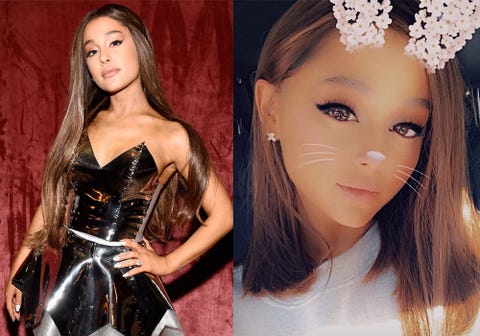 Ariana Grande
Following her split with fiancé Pete Davidson, the queen of waist-length tresses gave her fans a rare treat: a pic of her natural hair sans extensions. I'm fully living for this change on Ari. Long live breakup hair!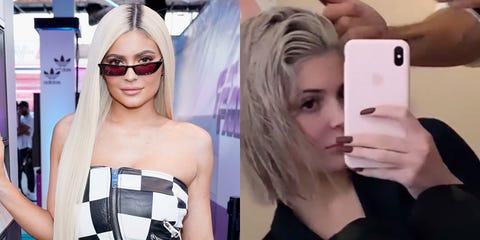 Kylie Jenner
Despite recently saying that she wanted to go back to her black hair, Kylie decided to go in a different direction and dyed her hair gray. She also opted for a short bob that we've seen her rock several times before. Hopefully, we get to see the full thing in new photos soon!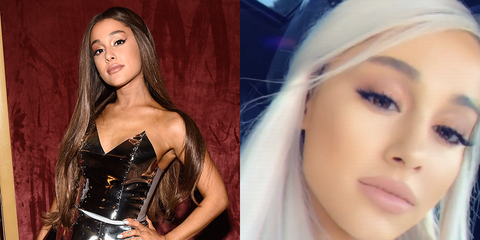 Ariana Grande
Ari is saying 'Thank U, Next' to her brown hair. She decided to change up her look and go back to her platinum blonde hair that she's rocked before. She posted the new video on Instagram showing off her new hair color, while singing along to her latest hit single. We love it and we're so glad she loves it too!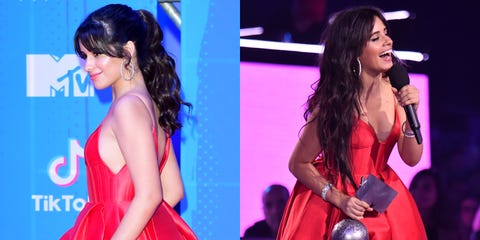 Camila Cabello
Anyone who has ever tried a high ponytail knows the struggle of wearing one, so when Camila stepped out rocking Ariana Grande's signature look, the two bonded over how hard it was keeping it on. "I just did a high ponytail for the first time and it is literally pulling on my BRAIN ITS SO PAINFUL HOW DO YOU DO IT," Camila tweeted out to Ari. "Well, u actually have hair so that prolly makes it a lil more painful ….. nah jk i'm in constant pain always and don't care at all," Ariana replied back. Ouch, we're gonna skip the high pony for a while.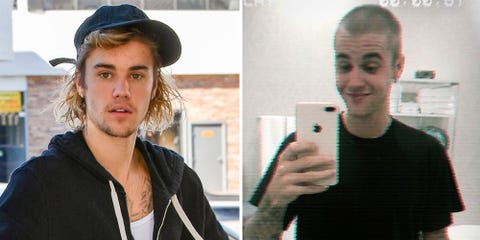 Justin Bieber
Start praying to whatever god you believe in, because y'all we've been blessed. The Biebs has finally, finally, FINALLY gotten a (real) haircut – and I'm really feelin' his new buzz.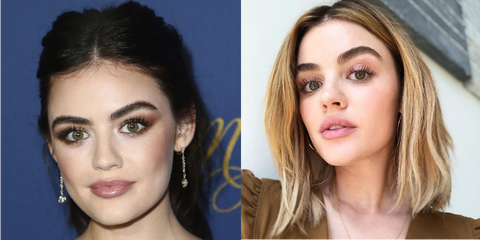 Lucy Hale
While it's not the first time she has gone blonde, this is her biggest transformation yet. Lucy revealed on her Instagram story that it took her 11 hours to get to her new blonde color. The time was definitely worth it and we might even copy this look the next time we need to lighten things up.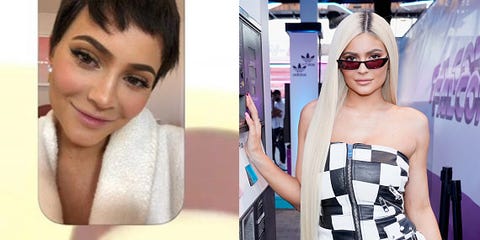 Kylie Jenner
Kylie's brand new look is going to have you seeing double. Her latest (not-real) hair cut is giving us major Kris Jenner vibes. She was actually FaceTiming with the mom-ager while showing off her new look and shared it on her Instagram.
While it's likely a wig that Kylie is just trying on, she is still rocking the short hair look as only she can.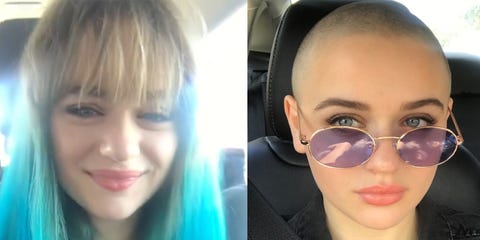 Joey King
Just a few weeks after spontaneously dying her hair blue, Joey King has gone completely bald! The actress shaved her head for her upcoming role in The Act, a Hulu show about the true story of a daughter who kills her mother.
Joey is super chill about the big change. She told Allure, "I've never really had an attachment to my hair. I couldn't care less what happens to it." That's probably because this marks the third time Joey has shaved her head for a role, cutting off all her hair back when she was 11 for The Dark Knight Rises and again when she was 14 for Wish I Was Here.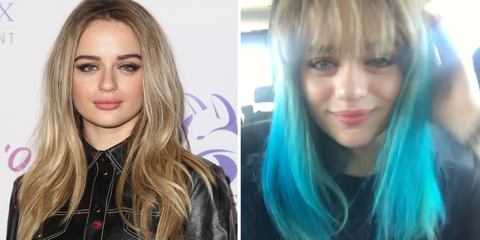 Joey King
One trip to CVS later and Joey King has blue hair! The Kissing Booth star shared on Instagram that she bought a spur-of-the-moment box of hair dye while shopping for candy and is now rocking teal tips. Honestly, I'm about to copy her.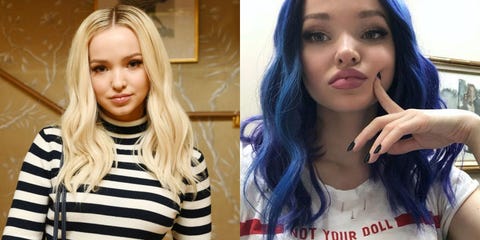 Dove Cameron
Looks like Dove just couldn't get away from Mal. The Disney star decided to dye her hair purple a couple of weeks after filming for Descendants 3 finished. She hasn't said anything on why she decided to dye her hair but at least we're not saying goodbye to Mal just yet.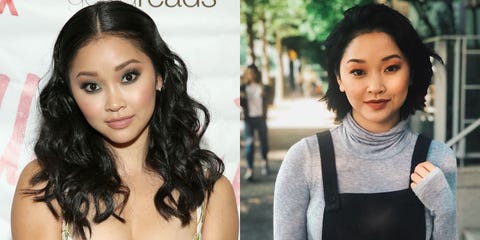 Lana Condor
We might be waiting for a sequel for To All the Boys I've Loved Before, but Lana is getting ready for her next big role. She will be starring in Syfy's Deadly Class as Saya and Lana cut her hair to match Saya's in the comic book series.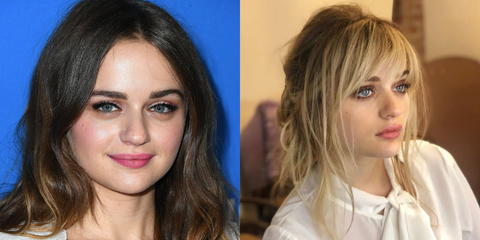 Joey King
Joey has been keeping busy with all her new projects lately, but she still managed to find some time to change things up and go blonde! Her bright eyes stand out even more now and we can definitely say we're in love with her new look!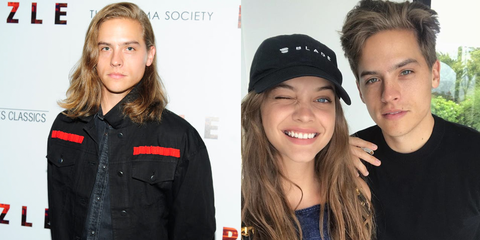 Dylan Sprouse
Dylan just chopped his luscious locks for a much shorter hairstyle and he looks so good! It's safe to say that new girlfriend Barbara Palvin loves his new look too in their adorable photo together.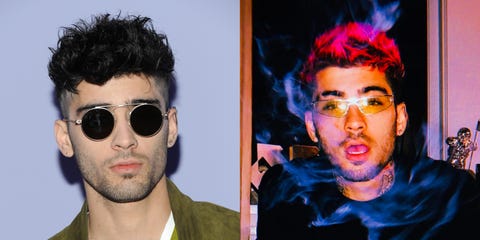 Zayn Malik
At this point, Zayn has pretty much had every hair color under the sun, but that doesn't make this transformation any less exciting. The hot pink really suits Zayn. We just hope Gigi likes it.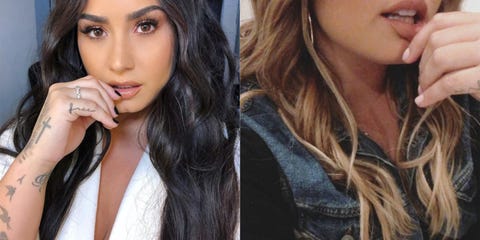 Demi Lovato
Demi decided to make a big change and go blonde, showing off the new look on her Instagram story. Maybe it has something to do with her possible budding new romance.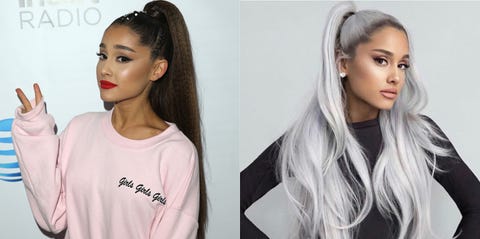 Ariana Grande
Between an engagement, an upcoming album and now a dramatic hair transformation, it's an exciting time for Ariana. Maybe she's just overworked and the gray happened naturally…Just kidding, we love the icy new look!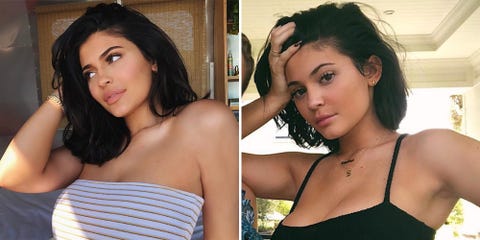 Kylie Jenner
If you can tear your eyes away from Kylie's new FILLER-FREE LIPS, you'll notice that she also traded her lob in for a super short crop.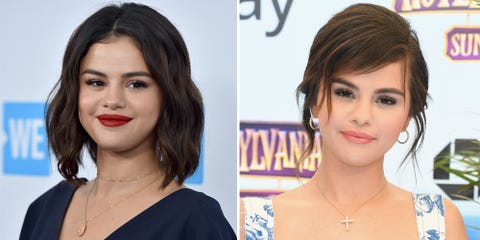 Selena Gomez
Selena just debuted some brand new bangs and now you're going to have to resist the urge to chop your hair. Repeat after me: do not cut your own bangs, do not cut your own bangs…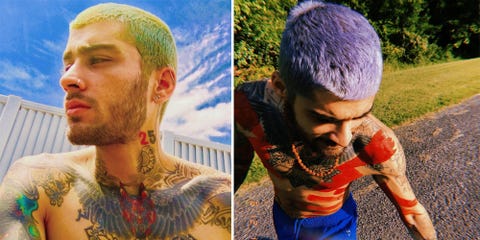 Zayn Malik
Zayn's highlighter hair lives to see another day, but he's dropped his bright green for a neon lavender shade. He looks like every cartoon character I crushed on as a child.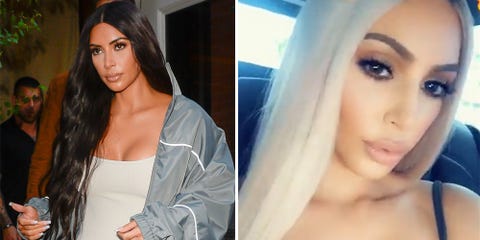 Kim Kardashian
In honor of her 4-year wedding anniversary, Kim dyed her hair blonde. She shared the change on Instagram Stories, saying: "I am back blonde. Kanye's favorite is blonde, so I did it for our anniversary." Awww.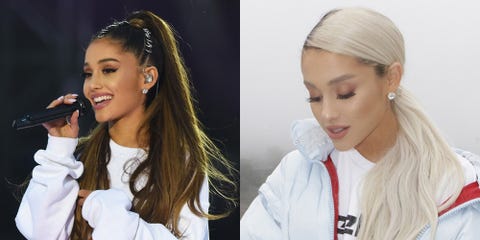 Ariana Grande
Ariana Grande's high ponytail is iconic, but nowadays, the singer is switching things up and wearing a blonde, low ponytail instead. And this isn't just a casual makeover. She wore the same hairdo on the artwork for her upcoming single "No Tears Left To Cry," set to drop on April 20. So fans, get ready because it looks like Ariana is bringing us a whole new era of music and beauty.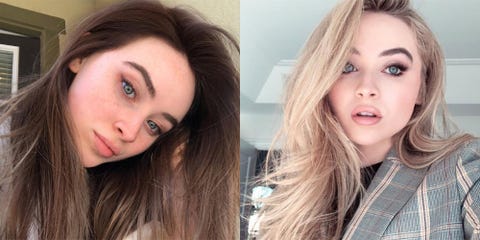 Sabrina Carpenter
Sabrina is Maya Hart no more! The Girl Meets World actress has been rocking long blonde hair for as long as you can remember, but she's gone brown for a new movie she's shooting and she feels like a fish out of water. "plz comment below tips on how to brunette thx🎥 gonna make a movie now," she captioned the pic of her new look. Will the brunette hair stick around after she finishes filming her new movie? Only time will tell!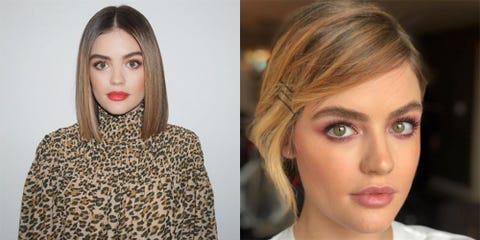 Lucy Hale
Lucy is REALLY shedding her Aria Montgomery past. She ditched her Pretty Little Liars characters' classic brunette locks and went SUPER blonde. It's a new era, baby!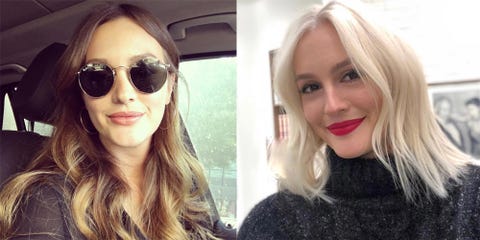 Leighton Meester
Good morning, Upper East Siders! Everyone's favorite HBIC just got herself a new color. Careful, Leighton, you're stepping on Little J's toes. XOXO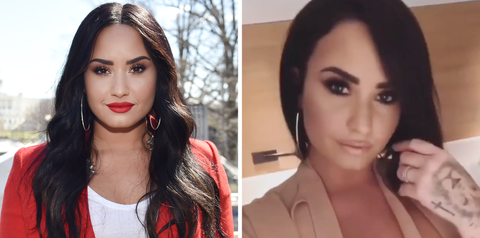 Demi Lovato
Demi ditched her Rapunzel-length extensions just in time for Easter celebrations. Her new asymmetrical bob is such a chic change.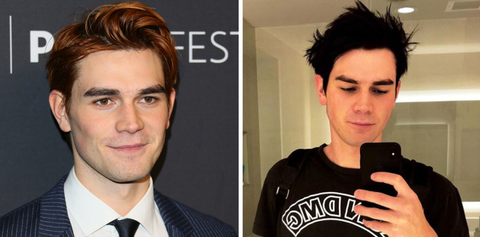 KJ Apa
After wrapping season two of Riverdale, KJ dyed his hair pitch black. His natural hair color is dark brown, but he's rocking the darker shade.