Baby bangs, amber hues and every other hair trend to take to your hairdresser this winter.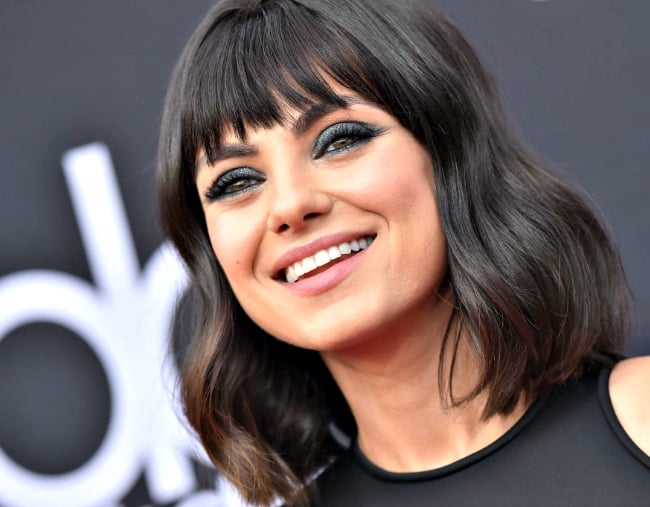 Winter can feel a bit dreary, can't it?
Yes, the cosy knits and long line coats are delightful. But where cold nights and dry skin go, dull, lifeless hair follows.
The fastest way to make your hair look and feel updated is, well, to update it.
That's what we're telling ourselves at least, because the latest hair trends coming out of fashion weeks, on red carpets and off the streets are genuinely too cool not to try.
We asked two Aussie celebrity hairstylists to unpack the most coveted 2018 winter hair trends, and gee they're really bloody fun.
Baby bangs
Put simply, baby bangs = a short fringe.
Real Simple reports Google searches for 'Mila Kunis bangs' have spiked since she debuted her (possibly clip in) baby bangs on the 2018 Billboard Music Awards red carpet this week. Vanessa Hudgens and Selena Gomez are giving the look a try too.
This style involves moving away from the sweeping, eyelash-grazing fringe and towards a shorter length just above your eyebrows.
Channel Nine hairstylist Jaala Brinsmead told Mamamia if you're going to try a fringe, winter is the time to do it. Mainly because it won't stick to your forehead on a sweaty, humid summer's day.
"A fringe can be a great winter look to try as it requires blow dry attention, which we're a lot happier to do in cooler weather," she said.
Short hair
"Shorter hair is a big trend right now, specifically the shorter, shaggy lob," Keiren Street of Keiren Street Hair told Mamamia.
This style was particularly popular on the 2018 Cannes Film Festival red carpet, as seen on Kristen Stewart, Hailey Baldwin, Bella Hadid and Cate Blanchett.
Keiren's advice (which you are to repeat word for word at the salon)?
"Ask your stylist to shake the look up a little by removing the bulk and chipping into the base line so it doesn't look too 'bobby'."
Speaking of hair trends, we're also playing with textured braids. Post continues after video.
Amber hues and rich tones
Amber, rose gold, vibrant ginger, strawberry blonde and warm brown hues have been big on Fashion Week runways this year.
Keiren said the key is to forget "over processed hair and think healthy and shiny".
Bends and waves
"I'm always playing with bends – which is a slight wave through mid lengths to straight ends," Jaala said of the easiest way to update your winter hairstyle. For the next step up, try crimped and high volume curl styles.
Pro tip: "Always finish off this look with a texture spray."
90s hairstyles and accessories
We all know everything 90s is in fashion again. Same goes for hair.
"Think Beverly Hills 90210 without the gel and hairspray," Keiren said.
He also suggested playing with scrunchies worn low and loose and the banana comb (as seen in Alexander Wang's Fall 2018 show), as well as clips and bobby pins.
Enough talking – here are our favourite hair trends to bookmark and take to your hairdresser this winter.