17 Super Cute Valentine's Day Nail Designs You Can DIY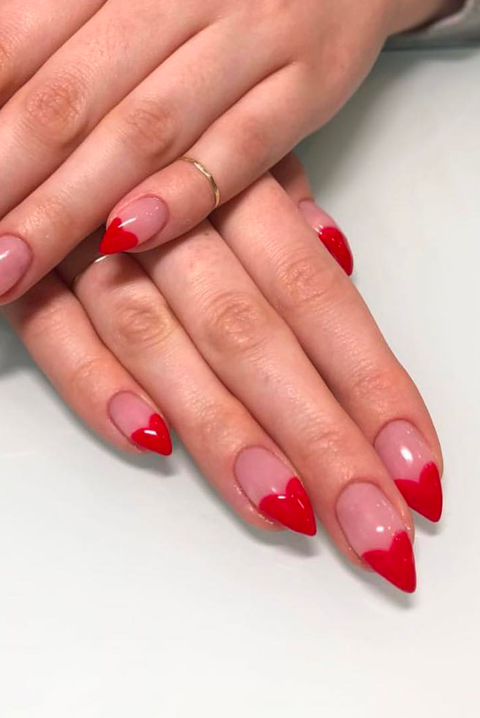 1 of 17
Heart Tips
If you have long nails, then you HAVE to try this really cool nail look. File your claws so they come to a point. Then, put on two coats of clear nail polish. Finish off the look with red nail polish at the tips. Make sure to add an indent so it forms a heart!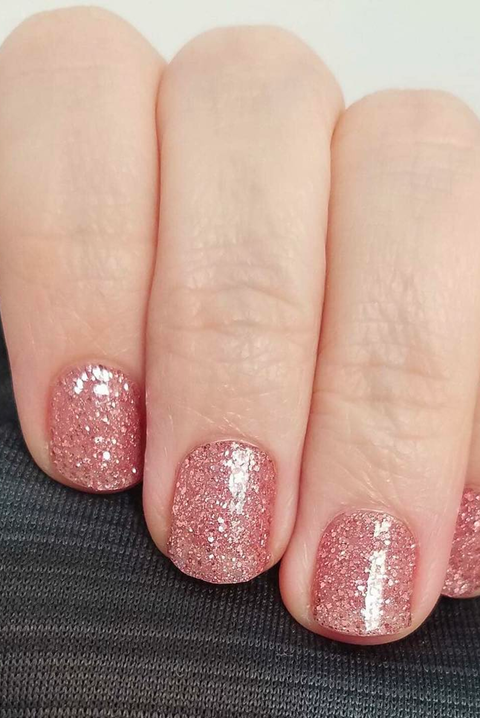 2 of 17
Pink Sparkles
Nothing says Valentine's Day like pink sparkles! Invest in a good top coat so the glitter lasts.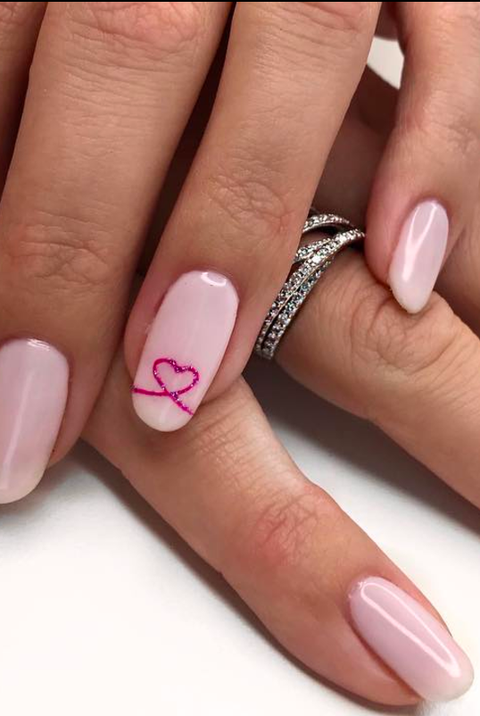 3 of 17
Accent Heart
Go for a sweet pink on all of your nails. Then, to add some V-Day spirit, but still keep things dainty, use a small brush to draw a heart on each of your ring fingers. It's so simple and chic!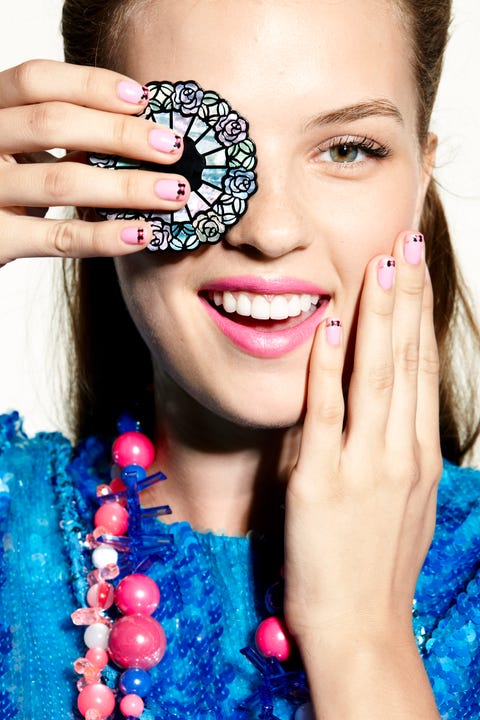 4 of 17
Dainty Bows
This girly nail screams V Day. Coat your nails in a girly millennial pink, then use a toothpick to draw a line across the tip. Then, grab a cotton swab and dab on four dots to look like a bow. Throw a jewel in the middle for a touch of glitz.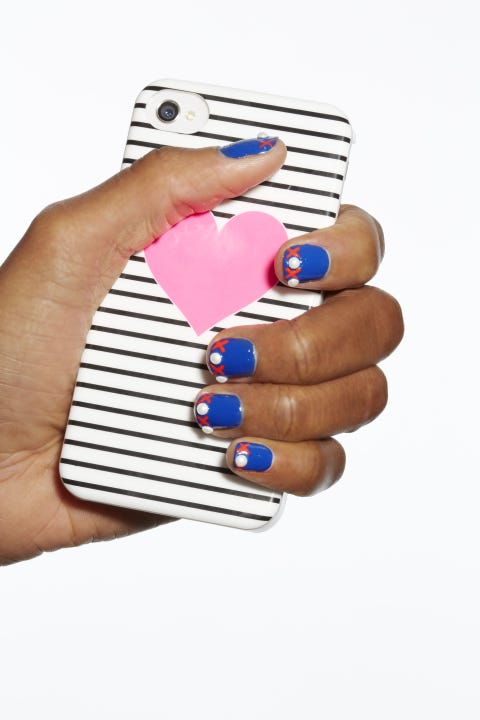 5 of 17
Xs and Os
First, apply two coats of royal-blue polish for a bold background! Then, use a toothpick to draw two small Xs in red at your tips, leaving space after each for the Os. Pick up small pearls with tweezers and paint clear polish on the back. Then adhere them to your nails between the Xs.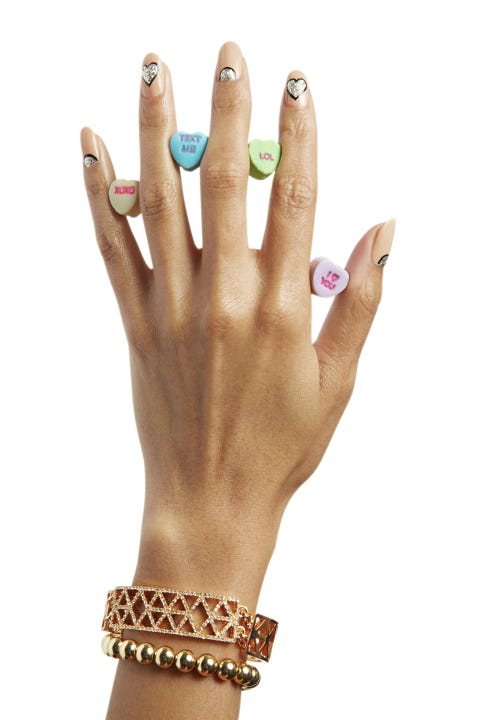 6 of 17
Sweet Hearts
Ditch the pinks and reds and try chill neutrals with a pop of sparkle. Paint your nails nude and then add glittery silver hearts and half-moons on every other nail, rimming the edges in black.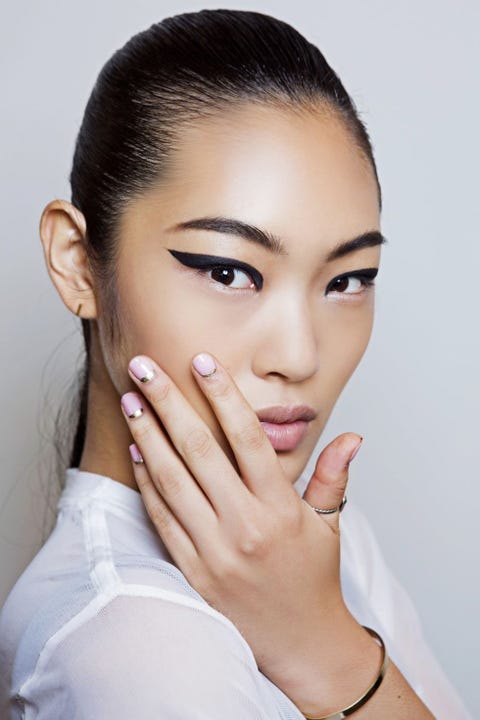 7 of 17
Metallic Moons
Add a little edge to your super sweet Love Day look with tough metal accents. For a crisp line, stick a piece of tape across your nail, then paint a small section of silver just above your cuticles. It's a sweet take on a classic moon mani.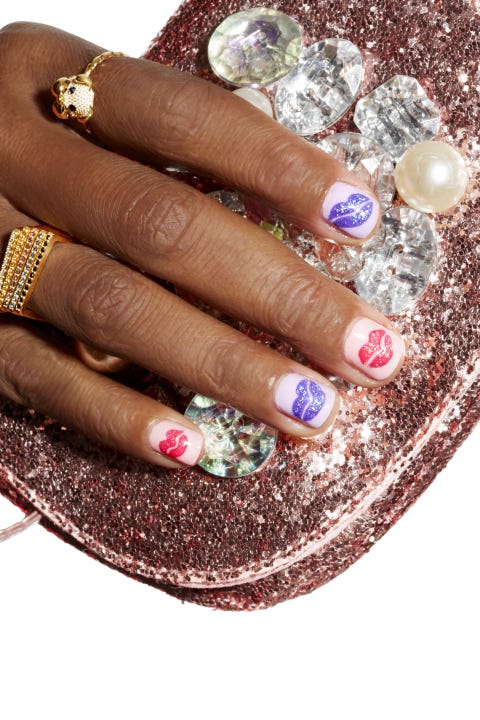 8 of 17
Pretty Kisses
Get nails as kissable as your lips by starting with a pretty base of pastel polish. Once it's dried, paint on heart-shaped lips using a thin brush. For extra bling, add two coats of sparkle lacquer on just the pout.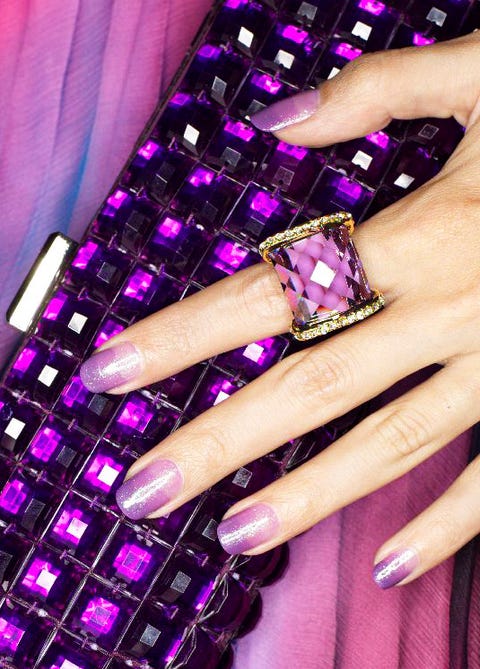 9 of 17
Purple-Pink Ombre
For a super chill girly vibe, use a sponge to dab on pink polish, on top of that add lavender, then a slightly darker purple to finish. Follow with a coat of glitter.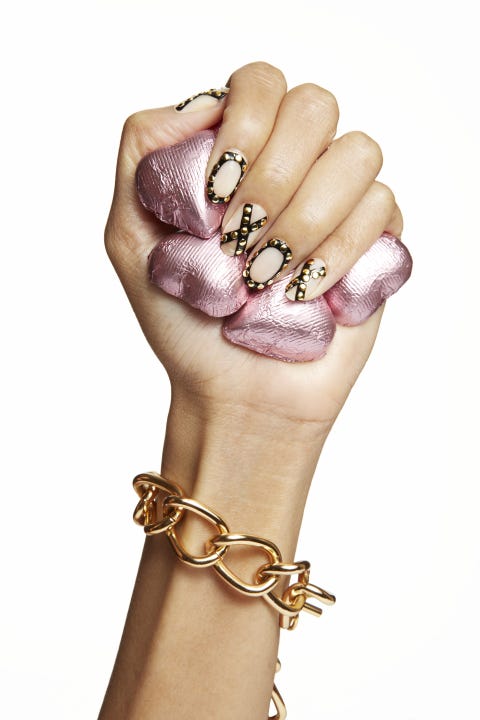 10 of 17
Punky Studs
Apply a clear base coat, then paint alternating black Xs and Os across your nails. Stick on studs while the black polish is still tacky, then cover with a couple top coats to keep them in place.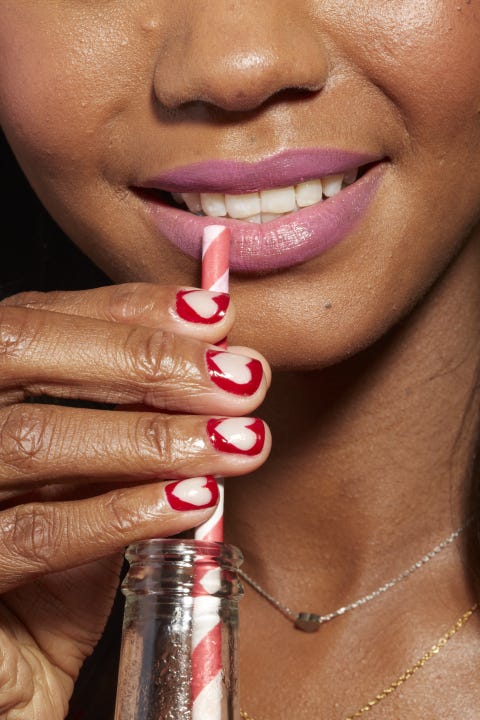 11 of 17
Negative Space Hearts
To dupe this chic look, use a thin brush to paint two identical red U shapes on your tips, letting them come to a point in the middle. Then draw two diagonal lines from the outer edges of the U shapes to the bottom center of your nail to finish the heart. Top it with a coat of clear polish for extra shine.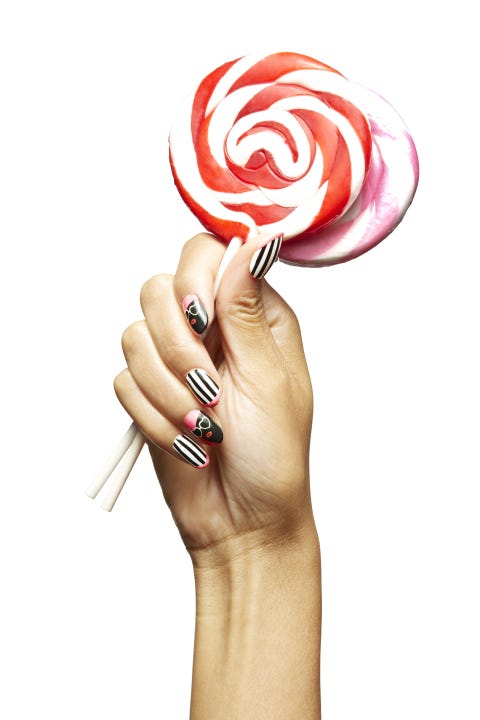 12 of 17
Girly Stripes
Pretty stripes are a V Day must – they're girly and cool, but still feel fresher than a heart motif. To dupe this look stick printed nail wraps (like these cute kissy faces) on two fingers. Then paint the rest of your nails white, then use a striping brush to add black stripes and neon tips.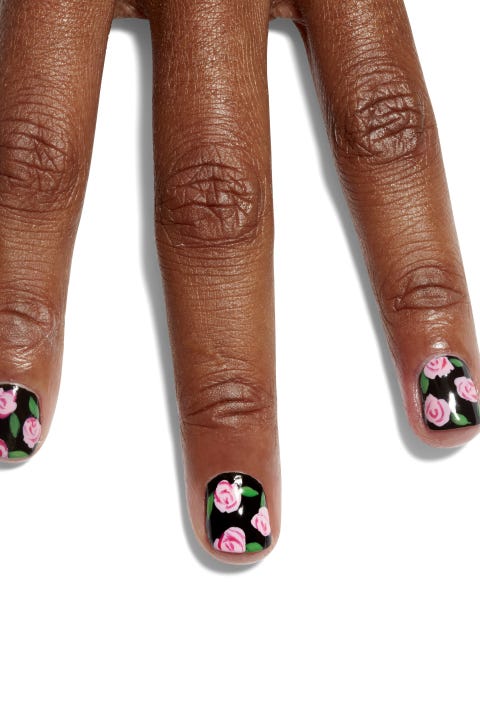 13 of 17
Rocker Roses
A pastel pink will pop against black nail polish! Create the floral shape by painting three small pink blobs on your nails and let them dry completely. To create pretty looking petals, use a thin striper brush to add hot pink swirls. Finish with leaves – use a toothpick to paint on your foliage.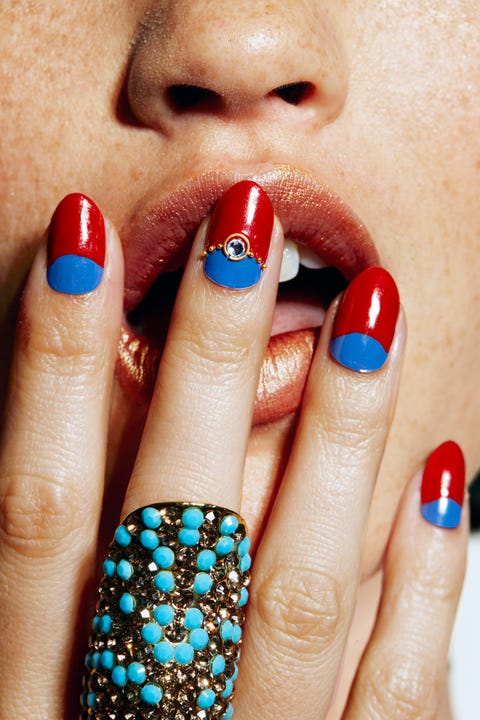 14 of 17
Edgy Red
If you're anti-pink, you can still rock a festive red nail – just pair it with another primary color for instant edge. Paint you full nail the color of your choice, then use a nail sticker to section off the bottom half. Paint the upper part of your nail red, then glue on as many gems as you see fit (a lot).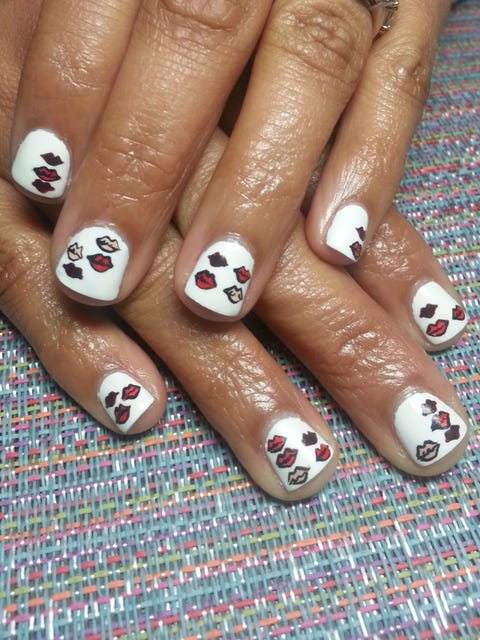 15 of 17
*Smooches*
Those of us who won't be getting kissed on V-Day can compensate with this equally exciting mani. Apply two coats of pure white polish, then used a small brush dipped in different shades of red, nude, and coral to create kiss-shaped blotches. Outline the lips in black and top with a glossy clear coat (r glitter – probably glitter).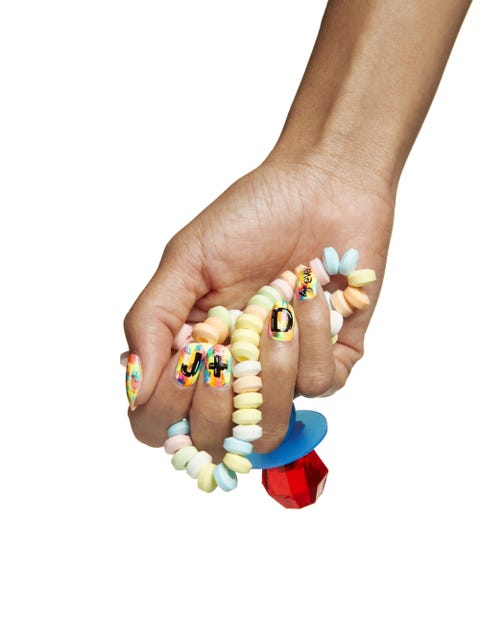 16 of 17
Neon Graffiti
Wipe off most of the polish from the brushes of your fave neon shades, then layer them on for a bright watercolor effect. Once that's dry, draw on your S.O.'s name with a nail-art pen – or you know, "PIZZA".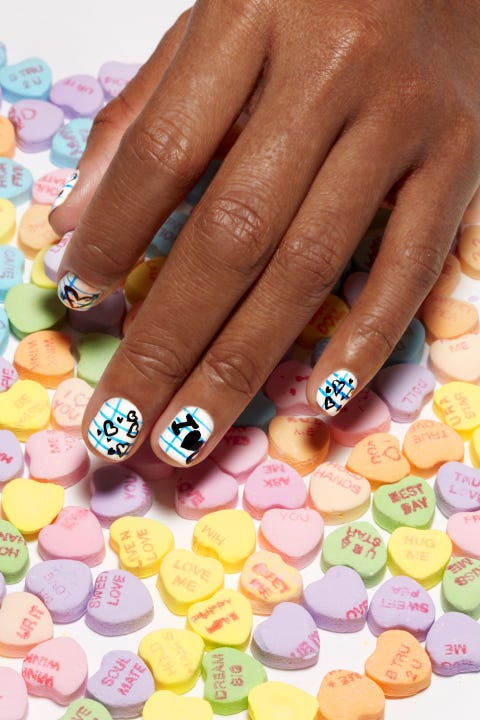 17 of 17
Cutesy Doodles
To get this cute love note mani, paint two coats of white polish and let it totally dry. Then use a blue polish marker to add four stripes across your nail and one stripe down the left side to create a notebook-y look. The last part is the best – start writing! Draw hearts or bae's initials using a black polish marker.