Make up tips to hide your hangover
Fool the office or friends by hiding your hangover this party season. Look refreshed and ready to go, even if you don't quite feel it on the inside.
Here are Justine's tips:
Make-up artist to the stars Justine said that the key to this look is to use hydrating and light reflecting products to bring back a much needed healthy glow to your skin, so start with a hydrating primer and apply with a Wonder Cover Complexion Brush.
Using a Skin Perfecting Brush or Complexion Buffer Brush, apply BB Cream all over your face, starting in the middle before blending out. Do avoid a heavy matt foundation as it will make your skin look dull and dry. Stick to a dewy, light reflecting base.
It's likely lack of sleep will be showing under your eyes, so apply a light reflecting concealer using the Foundation Brush and blend.
To conceal any redness, try dabbing your Ultimate Concealer Brush in your chosen concealer product, and applying over the redness and blend into the skin.
Only powder your T-zone as you want to retain that dewy glow. Use the Full Powder Brush, the Sheer Powder Brush or the Sheer Finish Blush Brush.
Using an Enhancing Eye Set, apply a shimmer satin eyeshadow in a brightening tone like oyster or champagne to the eye lids, and trace a rose gold or antique gold along the upper and lower lash line.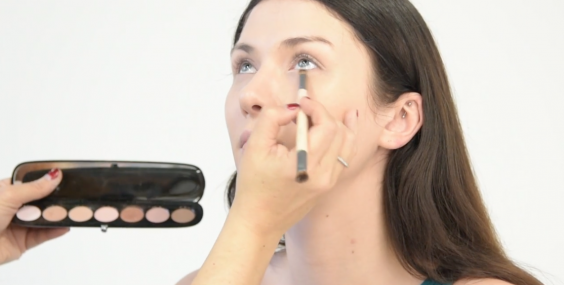 Apply an eyeshadow two shades lighter than your skin tone to the brow bone to lift the eye. Dab a highlight onto the inner corner of the eye to open up the eye. If your eyes are red, line the lower water line with a flesh coloured eye pencil.
Don't forget to curl your lashes and add mascara.
Add warmth to a dull complexion by sweeping the Full Powder or Blending and Bronzing Brush into a bronzing product and buffing onto the skin using soft movements from the temple, down under the cheekbones, along the jawline and tip of the chin.
Also, apply a highlight product to the top of cheekbones, down the centre of the nose and cupids bow, and swirl a blush with added shimmer to the cheek area using the Precision Blush Brush, the Sheer Finish Blush Brush or the Blending and Bronzing Brush. A peach, pink or coral tone will lift away any dullness.
Finish off the look by applying a lip gloss with added shimmer to make the lips look full and sumptuous.
Justine Jenkins used EcoTools make up brushes.
Watch other videos in the series with Justine Jenkins: Christmas party look and Halloween make-up.