Kesha's Makeup-Free Freckle Selfie Is Blowing Up on Twitter
It has more than 2,000 comments already.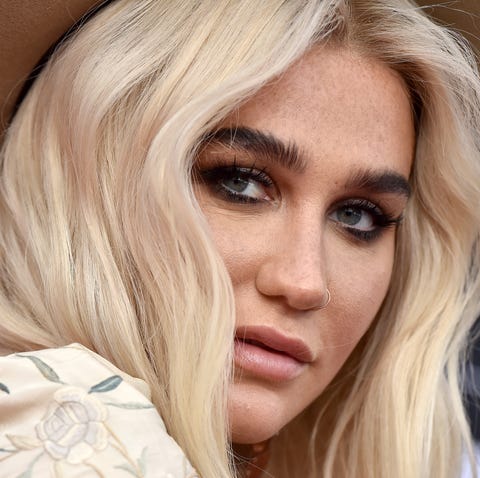 It's officially a new year, which means every single person you've ever known is either reinventing themselves, disciplining themselves, or, in Kesha's case, accepting themselves. On Tuesday, the 31-year-old singer posted a makeup-free selfie to Twitter and Instagram, vowing to love herself and let her freckles "liiiiiiiive."
"This year my resolution is to love myself… just as I am, all fucked up and imperfect and whatever else," reads the caption on her selfie. Already, Kesha's pic has garnered more than 450 thousands likes on Instagram, and another 9,000 retweets and 2,000 comments on Twitter.
this year my resolution is to love myself… just as I am, all fucked up and imperfect and whatever else. And to let my freckles liiiiiiiive 🛸🛸💃🏼💃🏼💅🏻💅🏻💅🏻 pic.twitter.com/uuKjwGOYEt

— kesha (@KeshaRose) January 15, 2019
"Yasssss Queen," reads one comment, while another echoes, "Yes it's time to love ourselves! Also, I love YOU!" Aside from the thousands of supportive comments, fan have also begun uploading selfies of their own freckles in solidarity, along with sharing their own insecurities that they've learned to embrace.
I've as many/more freckles as you! I was so embarrased as a little girl. My daddy said some day they'll blend into the perfect tan 🙁 I just think how different it would be for us if one of our idols would have gone natural! How many "imperfections" would've made us feel perfect.

— S Davis (@davisauntie) January 16, 2019
Girl I love your freckles I so wish I was younger When you debuted cause I've spent years getting rid of mine cause I was bullied for them! Now I miss my freckles

— Bella Viaggi (@BellaViaggi) January 16, 2019
welcome to the freckle life!!! pic.twitter.com/gXPahyCDiN

— big blood moon energy (@neutral_witch) January 16, 2019
This isn't the first time Kesha has ever taken a minimal-makeup selfie—she posted a similar photo in August of 2018—but it is in line with the newer, rawer the singer has been slowly showing the world over the last few years.
"It was scary, but I finally put my foot down and chose life. That was a huge turning point. I'm not a size. I'm not a number," Kesha told Cosmopolitan in 2018 about her body issues. "I am a strong, badass, motherfucking woman, and quite frankly, I like my junk. Ten years ago, I never thought I'd be able to say that."
And hey, if embracing yourself is this year's new trend, I think we can all get behind that.