Finally: How to Make Your Aggressively Straight Hair Hold a Curl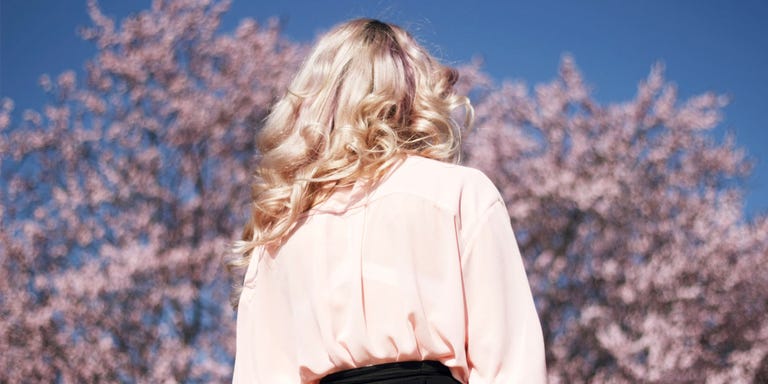 I'm pretty damn good at doing hair (I'm also very humble). I take pride in being able to turn your "annoying" hair ("it's too slippery!" "It's too short!" "It's too thick!" "It just doesn't do anything!") into a braided, twisted, magical style. So when my friend challenged me to curl her "aggressively straight" hair, I chuckled, patted her on the head, and got to work. And then it imploded.
Because no matter what I did, her straight hair would not hold a curl or even a wave. I sprayed the hell out of it with every texturizing product and hairspray I had, I held the curl in my hand until it cooled, I begged and pleaded with the hairs to stay twisted, and still I was left with limp nothingness. Defeated and ego-bruised, I vowed to never again let another strand conquer my soul.
So I sought out an actual professional, i.e. celeb hairstylist Justine Marjan, and convinced her to tell me exactly how to master stick-straight hair once and for all. And, thankfully, she delivered. So before you break out those elastics for yet another topknot, try these brilliant tricks and product recommendations that'll keep curls and waves intact all day long.
Add Some Grip
Most of your curl power comes from how you prep your damp hair, and that should include products with "memory"—i.e. ones that give your hair a flexible, malleable shape when you're heat-styling them, then help it retain that shape when you're done. Marjan reaches for Tresemmé Beauty Full Volume Mousse (a dense, non-sticky mousse that gives hair insane volume) and Ouai Wave Spray (a lightweight spray that coaxes textured waves out of even the straightest hair types).
After towel-drying your hair, rake a puff of mousse (baseball-size for long hair; golf-ball size for short hair) through your damp hair with your fingers, from roots to ends, then liberally mist the wave spray all over your hair, focusing on your mid-lengths to ends. Then comb through it all with a wide-tooth comb.
Keep It Rough
Next up: The drying process. The biggest mistake Marjan says people make with their stick-straight hair is blowing it dry with a round brush, which smooths out all of the natural texture your hair needs to hold a curl. "Instead, you want to enhance your hair's texture by using a diffuser attachment or by drying it with your hands," she says.
Basically, don't play nice—flip your damp hair over, rough-dry it with your hands, and encourage all the waves you can out of your hair. "If I really need to use a brush, I'll use a small ceramic round brush to brush and curl the hair as it dries," she adds. (Marjan, who is a brand ambassador for Ghd, swears by the Ghd Air Hair Dryer, though you can also try my favorite Conair Infiniti Pro Hair Dryer.)
Go for Tiny
After your hair is totally and completely dry (no, really—is it dry, yet?), add another layer of staying power to your hair by misting it with hairspray, says Marjan, who recommends R+Co's Vicious Hairspray, a strong, yet flexible formula that adds shine and heat protection. Brush through your hair to break up the spray, then grab a one-inch curling iron or wand (Marjan loves the Ghd Classic Curl Iron, but you can also try my favorite Bed Head Curlipops Curling Wand).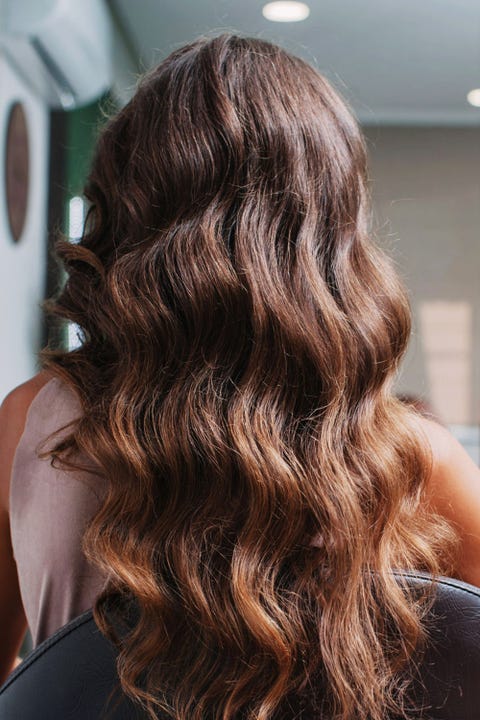 "Make sure to use an iron with a barrel that's smaller than the curl or wave you actually want, because your curls will gradually fall out and loosen up," says Marjan. Wrap one-inch sections of hair around the iron, "holding longer than you think you would need to," then release the curl into your palm for a few seconds while it cools. You can also clip each warm coil to your head to really make sure your hair holds the curl, though it will take you a bit more time.
Finish It Off
"While hair cools, spray with another layer of hairspray, and remove the pins (if used) only when the hair is 100 percent cool to the touch, which will take about 20 minutes," says Marjan. Then break up curls with a wide tooth comb, and avoid the urge to grab your favorite shine-enhancing spray or dry shampoo for a little extra oomph.
"Stay away from silky serums, oils, and dry shampoos, as they will either take too much out of the hair or weigh it down," she says. So, after misting on the hairspray and breaking up the curls, Marjan will rub a thin layer of Fatboy Sea Salt Pomade between her hands and scrunch it in to the ends of the hair to add some piece-y texture and hold.
Congratulations, you've officially conquered your aggressively straight hair. To make your new baby waves and curls last, keep your hands off of them during the day and swap your cotton pillowcase for a silk one at night. No, it's not overkill—it's necessary if you want really excellent hair. "Sleeping on silk adds shine to your curls and prevents frizz while you sleep," says Marjan, who swears by The Hollywood Silk Solutions pillowcase. And who doesn't want that?
Now, please go forth and spread your new knowledge to all of those who are still in the dark.