The Cold Brew Trend Is Here to Revive Your Tired Hair Color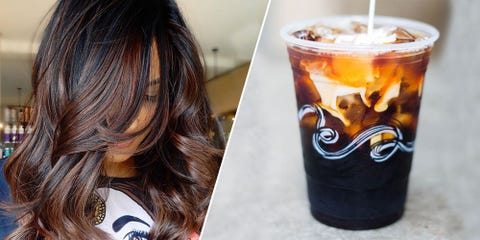 This time of the year, regular coffee is fine, iced coffee is great, but cold brew is everything—and I'm not just talking about the drink.
Have you ever stared into a glass of the good stuff and admired how beautifully the colors transition from a dark espresso shade at the bottom to a lighter shade near the top, and then wondered how you could replicate that exact color pattern on your hair? Well, you're not the only one. Turns out colorists all over Instagram are finding inspiration in exactly that and have deemed the trend "cold brew hair."
As described by colorist Stephanie Brown to Refinery29, the look is all about creating dimension with rich highlights and lowlights in neutral and golden tones that mimic the color blend from a splash of milk in the iced coffee drink.
Or maybe you take your cold brew black, so the blend you see has more reddish tones as a result of the ice melting toward the top. NYC-based Kimberly Bonondona's interpretation of the look falls more in line with this, so she used "chili pepper chocolate" highlights applied with a balayage technique to create the look.
The possibility to completely customize your look is what makes this trend so great. Just like some people might take their coffee with a splash of almond milk or extra ice, your version of cold brew hair might be totally different than someone else's.
So, if you're convinced that this look is the perfect fit for you, next time you head to the salon, skip the inspo photos and bring a couple cold brews instead.