11 Rose Gold Nails Designs to Pair With a Glass of Rosé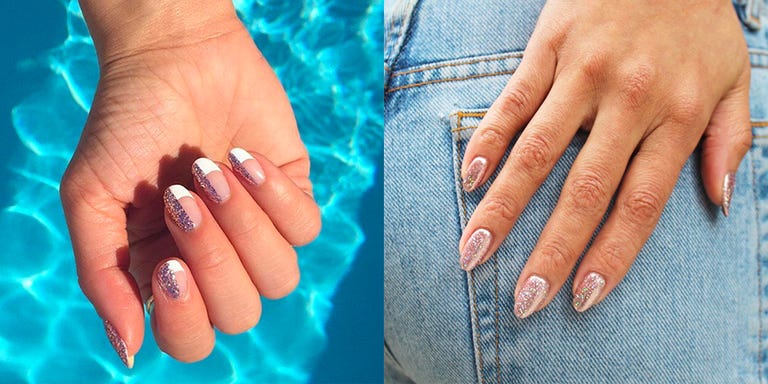 Rosé is no longer just a drink, it's a lifestyle. Take one look at Instagram and you'll see how the sunny blush beverage—and the its sparkling rose-gold tone has taken over the world. Instagrammers have their own wine labels and dudes in Silicon Valley have fallen in love with "Bros' Gold." So, why not talk about rose gold nails? From high shine to roses in literal gold, here's some rose gold nail design inspo to match your summer rosé habits.
1. Pink Champagne
This champagne glitter is a custom color from Paintbox nail studio in New York City but you can easily recreate the look at home. Grab a light pink base color (like NARS Iconic Polish in Ithaque) and top it with silver sparkles. Instant effervescence on your tips.
2. High on Shine
Summer distilled onto ten digits: The bright turquoise base compliments the shimmery, rosy tips. For a more subtle take, mix and match the two base colors with nudes and light pinks.
4. Coral Rose Crush
You wouldn't expect it, but this pairing of rose gold and coral somehow works. Skip the classic french in favor of a modern two-toned tip. The extra gloss on the naked nail adds a bit of shine creating a polished feel.
5. Dipped in Rose Gold
Paintbox delivers the perfect balance of the rose and gold so that your tips look like they were dipped in a glass of rosé and a jar of glitter. If that's not living, we don't know what is.
6. Coming Up Roses
Sure, this is less gold, more rose but just like all rosés are not created equal, nor are the nails the drink inspires. Plus, the unique outline will set you apart. For even more shimmer, consider a sprinkling of gold in the negative space.
7. Roses in Gold
Rose gold or even better, roses in gold emboss! The dusty rose base compliments the gold emboss that looks depending on the light. Get intricate with a fine detail pen or go abstract. Even one statement rose would look great.
8. Glitter Bombshell
We imagine Elle Woods rocked these nails while typing all her Harvard Law papers. The light pink tips and glitter base are an expected switch.
9. Business Casual
Perfect for the boardroom and the club this manicure is business on one side, party on the other. Take your French manicure to the next level with a side of rose gold glitter.
10. Pinky and the Ring
A dainty swirl of rose gold pink balances out the ballet-slipper pink base. Grab Meghan Markle and Queen Elizabeth-approved Essie Nail Polish in Ballet Slipper and add detail to the curvy tips with Essie's Luxe Effects Nail Polish in A Cut Above.
11. Rose Quartz
Busy Philipps wore these to the CFDA awards so we could not not include this inspo. The rose quartz is a play on rose gold with its Himalayan salt lamp vibes. Crystals, sage, and candles not included.